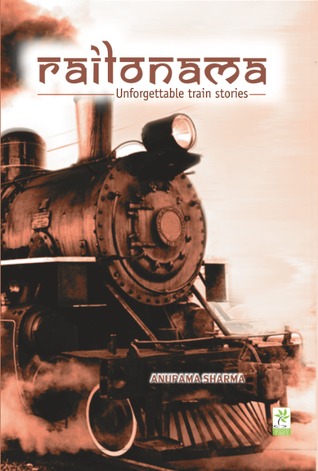 Blurb (from the jacket & GoodReads):
Interested in funny, heart-warming, and inspiring real life travel stories? You will love reading Railonama. It is an anthology inspired by travel on the Indian Railways.
The book contains stories from authors: Ajay Mankotia, Ambika Jindal, Anindita Deo, Anupama Sharma, Asiem Sanyal, Atul Sharma, Bala Parthasarathy, Chandrashekhr B. Kulkarni, Diane Caldwell, Dilshad Sanyal, Dr K.C. Jindal, Dr Roshan Radhakrishnan, Elayne Clift, Francois Juneau, Frank Joussen, Ganesh V, K.H.D. Karr, Ken Haigh, Kshitij Bisen, Lalita Bhatia, Malini Mathi Vathanan, Mary McCormack, Michael Clifton, Monali Ghatge, Nikhil Narayanan, Pat Hale, Pradeep Chaswal, Raminder Rayar, Renuka Vishwanathan, Rohit Khanduri, Savita Mudgal, Shailender Arya, Sharada Balasubramanian, Sheela Jaywant, Sheila Kumar, Sijeesh V Balakrishnan, Snigdha Khurana, Sukanya Mohan, Sumedha Sengupta, Susmita Bhattacharya, Tessy Koshy, Varsha Halabe, Vibha Batra, Yogesh B Sharma.
~
RAILONAMA is a collection of heart-warming, inspiring and surprising stories of train travels in India. Stories have been carefully selected from people all over the world who have traveled in India pre- and post Independence. This commemorative book of enriching and entertaining short stories and poems is a must read for anyone who has lived in or visited India.
The first I came to read the blurb of this book, I was reminded of a quote by Ruskin Bond is one of his TV interviews. The host asked Bond what was his inspiration, where did he get his stories from? He replied, "From railway stations." He emphasized that spending a couple of hours in a railway station could inspire any author with a story. Indian railway is so full of stories.
And this is book is just about that. Collection of short stories and poems from around the country, from whomever that traveled aboard it.
Well, I think the title's a bit cheesy. I won't be dishonest, the idea of the book seems to be the same, too. I realised the latter after I actually started reading the book.
Most of the stories could be related to, but was it a interesting factor? No. I am an avid traveler. Due to my puny finances I always preferred train to any other transport. I had numerous tales of my own. The stories from this book were more or less very much relating. Though somewhat engaging, the stories don't have that 'Unforgettable Stories' factor. (The tagline: Unforgettable train stories)

Maybe I was expecting too much of the book. After all, it was a non-fiction and it haves it's own limitations.

I could have overlooked everything I have mentioned earlier as they differed from taste to taste, but then the narration was pretty immature. The editor, Anupama, should've spent more of her creative juice into the work.


This review is a part of the biggest Book Review Program for Indian Bloggers. Participate now to get free books!
--------------------------------------------------------------------------------------------------------------------------
Title: Railonama
Author: Various
Tagline: Unforgettable train stories
ISBN (edition I've read): 9789380619798
Rating:
Read between: 07-02-2014 to 10-02-2014
Reviewed for: BlogAdda.com